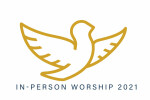 Thank you for your grace, patience, prayer, and ongoing support of this ministry as this congregation continues to navigate the impact of the COVID-19 pandemic. The influences that caused our suspension of in-person worship in November continue unabated. In fact, COVID-19 cases, deaths, and spread continue to increase in the Indianapolis area. In our effort to be a part of the solution, not the problem, Pastor Elizabeth has determined that Union Chapel Indy will not return to in-person worship or activities before February 2021.
Pastor Elizabeth adds, "I understand the disappointment that comes with this decision, but for the safety of this congregation and the community, this is the best decision at this time. It is my prayer that this congregation will continue to be the church everywhere we are right now - praying for, loving, and serving those with whom it is safe to be in contact."
And as we've said - and lived - all along... while we may not be gathering, the work of the church goes on! Be light and love where you are. Remain prayerful and generous. Stay connected to Union Chapel on social media. And let the church office know how we can be helpful.
You can contact us at