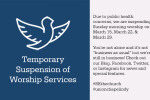 Union Chapel Indy is taking measures to preserve and protect the health of our congregation, our ministry partners, and our guests in response to the Coronavirus outbreak. As a necessary step in this developing process, we have made the difficult decision to suspend our gatherings for Sunday morning worship on Sundays March 15, March 22, and March 29. This decision is made in conformance with the guidelines established by the Indiana Annual Conference, the Central District, Governor Holcomb; although our congregation does not meet the threshold size for mandatory suspension, we have taken deep to heart the concern we hold for one another and our deepest desire that no one be exposed and made ill.
Please take note, though: we will be live-streaming a worship experience each Sunday morning at 10:15 on Facebook Live and, in addition, will be streaming a daily devotional each morning of the week at 9:00. You will be hearing from us by telephone, and we will be expanding the capacity of our food pantry to help meet the needs of our members and constituents. Keep an eye out for news of food preparation for delivery to those who have a special need, and for our Community Dinner this month, we'll be cooking and preparing the food for a drive-thru takeout experience!
We are already eager for the day when we can gather again for worship and praise and fellowship together, and especially hopeful that we can feel safe in doing so on Sunday, April 5th—Palm Sunday.
You are not alone in this journey. Please let our staff know your needs and share your prayer concerns via Facebook Messenger or at -- or join one of our Facebook discussion groups for a more interactive experience. (See the "groups" option on our Facebook page.)
The Maker's Space
Hearts & Hands
Chapel Youth
Uplift Pantry
Chapel Stories (New!)