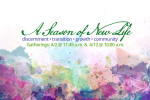 March 20, 2023
Dear Friend,
Even though we've had some cold days and even snow flurries recently, spring is beginning to show itself! Buds, leaves, and flowers are all starting to bloom. It's a wondrous season of transition and new beginnings. It's not unlike where Union Chapel Indy finds itself right now... in a season of transition and new life!
In this season of transition and new life, Union Chapel Indy has launched a weekly dinner church experience, The Table, Thursdays at 6:00 p.m. We are welcoming about 25+ people every week for food, conversation, the stories of Jesus, and community. It has been a blessing and a joy to connect with some new people around the table.
Also in this season of transition…
We are preparing to send Pastor Jacob to his new position as Lead Pastor at Community UMC in Naperville, Illinois. While we are sad to see him go, God is doing an amazing thing in Pastor Jacob, his family, and this new appointment, and it is exciting to see it happen. We will plan a time of celebration prior to Pastor Jacob's departure in June.

And it seems we are, for the most part, past the US COVID-19 health emergency (which is expected to end on May 11). We enter this new season with a beautifully expanded and renovated facility, and many stories of faithfulness to encourage us.
I invite you to join me in taking some time to reflect on and celebrate our life together; identify where God is at work among us; and discern our movement through the rest of 2023. I invite you to join me for some casual conversation on one of the following dates:
Sunday, April 2, 11:45 a.m. - 12:30 p.m. - Sanctuary

Wednesday, April 12, 10:00 - 11:00 a.m. - Room 216
The agenda will be light as we share stories of where God has been at work among us and where we see God leading us. I hope you'll join me! (No RSVP needed, just show up!)
Also, on Sunday, April 2, you are invited to lend your efforts to some spring cleaning in preparation of the Easter celebration the following Sunday. Plan to stay after worship and participate in one, or all, of the following - - -
Lunch | 11:30 a.m.

Grab lunch and take it to the conversation mentioned above, or have a seat with others and enjoy some time together.

Conversation with Pastor Elizabeth | 11:45 a.m.

Spring Cleaning | Noon and continuing through the afternoon

Wear your work clothes and help with yard clean-up, touch-up painting around the building, and other light tasks to ready the facility for Easter Worship.

If you are meeting with Pastor Elizabeth for conversation, plan to join the clean-up crew after.
Thank you for your presence in this ministry and your prayers for its effectiveness. Please be in touch if you have any questions about the invitations made here or if I can be helpful in any other way. You are in my prayers, and I look forward to being with you on April 2, for a day of celebrating and serving at Union Chapel Indy!
Many blessings,

Senior Pastor Elizabeth Gilbert