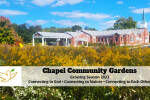 Chapel Gardens in 2023
If you drove by the church grounds this week, you likely witnessed a flurry of activity in the church gardens. Our 24 gardeners have been thanking God for beautiful weather -- and just enough moisture to give new seedlings a solid start! Here's an update on each of the garden projects:
In The Native Prairie/Prayer Garden:
Last year's remaining plant material was mowed and new native plants are already beginning to return. Leaving such "remainders" until spring gives the bugs, birds, and cocoons the habitat and nourishment to survive an Indiana winter. Hopefully, we'll soon see an increase in pollinators -- especially butterflies and fireflies -- due to our efforts! We have every anticipation of a gorgeous, bloom-filled field by early June featuring orange milkweed, native white daisies, native purple asters, and more.
Once again, Union Chapel will transform this corner of the property into a contemplative prayer walk that will be open to the public from June through September. Over the coming weeks, we'll enhance the space with one or two permanent art installations, and robust nature information stations so that our guests can connect with the flora and fauna around them, while they connect to God. Stay tuned for summer community outreach events like "Painting on the Prairie" and more!
Prairie helpers are welcome! If you'd like to help develop/lead an art- or nature-inspired event this summer or help create one of the public art installations, reach out to Lisa Lorentz.
In The Community Garden Boxes:
This week witnessed leaps of progress in the outdoor classroom and garden box areas, largely thanks to the efforts of Tony Matteucci (Buildings & Grounds), Megan Sharp (STRIVE Worldwide), and Stacey Cassell (Box Garden Coordinator) -- and there's more to do! If you have a few hours to help build benches, move mulch, or lay down weed barrier fabric, please reach out to Lisa Lorentz and she will connect you to the parties who are working on those projects.
Stacey Cassell has organized and oriented this season's box gardeners -- and they're beginning to plant a wide variety of seeds and seedlings in anticipation of a bountiful harvest. Each gardener has agreed to "tithe" 10% or more of their harvest to support UCI's Thursday night Dinner Church and/or the UCI Food Pantry. This year, most of our community gardeners have little- or no- prior association with UCI -- so whenever you drive by and see someone working the gardens, please be sure to give them your friendliest greetings and make them feel welcome.
In The Plot Farm:
Perhaps the most dramatic progress in recent days has been in the large plot east of the community boxes. Farmer Dan Cutter, along with family members, and UCI volunteers will be employing organic techniques to produce pole beans, snap peas, corn, potatoes, tomatoes, greens, carrots, radishes, and more! Again,10% of the produce from this farm will be "tithed" toward the UCI food pantry, dinner church, and community outreach events like canning classes, etc.
Dan usually works the plot in the late afternoons and early evenings after leaving his job. If you see him out there, give him a friendly wave or say hello. He's an experienced gardener and he loves to provide practical advice for anyone with questions. If you have some time this summer to help him weed, harvest, or cultivate, please reach out to Lisa Lorentz and she'll connect you Dan for direction.
"Thou shalt be like a watered garden, and like a spring of water, whose waters fail not."