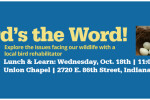 "Even the
sparrow
has found a home, and the swallow a nest for herself, where she may have her young— a place near your altar,
my God."
Bird's The Word!
WHEN:
Wednesday, October 18, 11:00 a.m. - 1:00 p.m.
Nature lovers, join us for a Lunch & Learn adventure featuring Liz Hatton, a certified bird rehabilitator from For The Birds of Indiana. For the Birds is a nonprofit that will care for, rehabilitate, or raise and release wild songbirds, raptors and many waterbird species of Indiana.
Liz has rehabilitated hundreds of wild birds and she has amazing stories to tell. She'll also instruct us on:
- When to (and when not to) "rescue" a baby bird.
- How to safely help an injured bird
- Common myths about birds
- How you can help wild birds
She'll even be bringing a few of her current "patients"!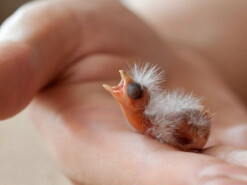 Lunch, materials, & workshop only $5. All proceeds go to For The Birds of Indiana!
Seating is limited. RSVP today at with the name of the class, your name, email address, phone number, and the number of people in your party.