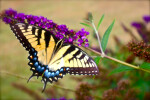 Lunch and Learn... Chapel U is venturing into your green space!
Turn your small space into an inviting garden for butterflies, birds, bees, and wildlife. NOW is the time to plan!
You don't even need a large space. All you need is the desire and a few pots to plant flowers. Learn how to get your yard certified as a WILDLIFE HABITAT by the National Wildlife Federation.
Gardening enthusiast, Nancy Tatum, is a self-taught gardener who transforms her yard into a haven for animals and insects of all kinds every summer with flower beds and pots full of native Indiana plants.
Cost for a delicious garden-inspired lunch and materials is only $5. (Proceeds go to a local nonprofit.) Door prizes from Wild Birds Unlimited.
RSVP (by September 4th, please) by calling the church office at 317.846.3429.