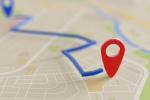 Friends of Union Chapel Indy, grace and peace be with you!
Thank you for your ongoing prayer, faithfulness, and Christian witness as we continue in these days of COVID-19 pandemic response. Your generosity in prayer, service and giving continues to impact those around us for good. Glory to God!
On Friday, May 1, Indiana's Governor Holcomb published a five-stage plan to get Indiana 'back on track.' This plan included guidance for churches seeking to resume in-person worship and activities. While it opened the possibility of in-person worship very soon, it also emphasized that "places of worship are encouraged to conduct as many activities as possible remotely." (https://www.backontrack.in.gov/files/BackOnTrack-IN_PlacesOfWorship.pdf)
Additionally, Indiana's United Methodist Church Bishop Trimble has made recommendations for how Indiana United Methodist churches move through this time of 're-opening.' Bishop Trimble published the following statement last week:
"We believe it is still wise to plan "in person" worship no sooner than June 14. Further, in concert with the state's guidance regarding protecting those among us who may be more vulnerable, 65 and older or those with health concerns, all congregations are encouraged to consider gathering plans that are more conservative than the ones allowed in stages 2-5 of the state plan."
(https://www.inumc.org/bishop/bishop-trimble-responds-to-governor-holcombs-address/)
In a recent Unified Council meeting, church leadership considered these recommendations, as well as our own capacity for safely and effectively returning to in-person worship, activities and programs. To safeguard congregation members, worshipers, the general community, and staff…
UCUMC will continue to offer online worship only through at least June 14.
Additionally, the building will remain closed to the public and, with the exception of our new Gospel in the Garden groups…
In-person activities are suspended through at least July 5.
While we will not be together as a whole congregation in the coming weeks, our life together in ministry and mission continues as diligently and effectively as ever:
• Online worship will continue on Sunday mornings, with a link sent to your email each week. The worship link is also accessible from the church's social media accounts.

• The staff will continue to provide helpful and inspiring content weekly on UCUMC's social media platforms, and in a short weekly newsletter.

• Children and Youth Sunday School Kits and ZOOM gathering will be continued until in-person worship can resume.
• Mission and outreach will continue in ways that provide care for the most vulnerable in the community.
• Our pastor and staff will continue to be available for pastoral care via phone calls, texts, and social media.

• You may continue to make your financial gifts online at https://www.unionchapelindy.org/resources/give/, in the UnionChapelIndy app, via your bank's online bill-paying method, or by USPS.
Thank you, and glory to God!
Those responsible for leading meetings are encouraged to utilize video technology (such as ZOOM or Google Meet) to facilitate ongoing connection and ministry.
If you need to reach pastor or church staff person or conduct any other business with the church, please phone 317.846.3429. Phones are still being answered and your call will be received. You can also communicate with pastor and staff using any of UCUMC's social media platforms.
Thank you for your understanding and concern for all involved as, together, we seek to BE the church — active and in mission — while establishing prudent and safe guidelines.
Please stay tuned to all of UCUMC's social media platforms and website (unionchapelindy.org) for updates, helpful content, encouragement and ways to be helpful.
Thank you for being a faithful, prayerful, committed member of this ministry. We are privileged to serve a loving God every day, and especially during times of concern and change. Your continued care-filled, calm, and loving response will bless others and honor the God who declares:
"... do not fear, for I am with you, do not be afraid, for I am your God; I will strengthen you, I will help you, I will uphold you with my victorious right hand."
Isaiah 41:10 (NRSV)