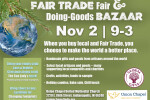 Nov 2 Fair Trade Fair:
Call Out for Vendors!
What a joy it was last year to partner with Global Gifts Fair Trade Nonprofit and local producers, artisans, and other do-gooders to provide a venue for good missions and good goods! The response was overwhelmingly positive so, of course, this year we seek to expand the good we wish to see in the world!
The Second Annual Fair Trade Fair & Doing-Goods Bazaar
Saturday, November 2
9:00 -3:00 p.m.
(Set-up available on Friday evening or beginning at 7:30 a.m. on Saturday morning.)
We have room for a few more vendors in the following categories:
- Farmer's Market-style goods (2)
- Upscale or upcycled gifts (2)
- Garden/houseplants/urban agriculture-related (1)
- Handmade clothing/accessories (2)
- Goods sold in support of a nonprofit or ministry (4)
- Nonprofits who wish to support crafts/activities/games while telling their story (must staff their space for the whole event) (2)
It is our goal to support local artisans, fair trade, home-grown, and humanitarian nonprofits. Space is limited but there is no fee to participate. Table and chairs provided. Electricity available. Potential vendor products will be juried within one week of submission: Please send a photo of your goods with an explanation of your theme or organization and contact information to If you are selected, you must agree to assist in co-promoting the event with flyers, social media, etc. Marketing packets will be provided.
Original, handcrafted goods only with a minimum of 40 items per booth. Booths can be shared but all vendors must submit product information to be juried. Please no corporation-supported goods. (Those organizations already have an outlet for their products.)
Let's combine our creativity and our strengths to pour more goodness into the world this year!