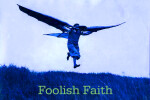 Dear Friends:
I wonder if you have ever heard the story of "The Fool and the Flying Ship" as it is narrated by the late Robin Williams. It is a marvelous Russian folktale brought to life by the master of endearing voices; the Tsar of Russia has promised the hand of his daughter in marriage to the man who can build a flying ship. A young peasant--a very simple boy--watches as his parents endow his older brothers with the resources they believe necessary to build the flying ship and win the prize--the chance to truly "marry up." The brothers are never heard from again but their foolish younger sibling has a dream and will not be dissuaded. He leaves home with very little; in fact, he has only a small bag with food for one meal and, in a chance encounter, he meets an old man "with eyebrows that jump like snowhares." The man asks the youngster if he has anything to eat and the bag is open. However, the meager fare is transformed into a sumptuous feast; after eating, the young man falls asleep and wakes to find a flying ship standing before him. It is his foolish persistence, his foolish generosity, his foolish faith that eventually wins for him the prize of the Tsar's daughter. (No word on how the young woman reacts to these twists of fate in her own life.)
Foolish faith; foolish persistence. Foolish generosity. The commitment to core beliefs based not on what is seen and heard and felt, but on the mystery that sustains us. Paul writes, in his first letter to the Corinthians, that his faith and theirs--this small band of Jesus-following Greeks--is regarded as foolishness by those around them who look on but do not seek understanding.
In the world around us are many--a majority, it appears--who regard as foolishness not only the cross but the very teachings of Jesus. In fact, there is a movement among the Evangelical wing of Christianity in America to relegate the teachings of Jesus to a secondary position as they insist that the "real" reason for the earthly life of Jesus was that He would die; Jesus' teachings, they insist, are less significant. As the famous Church Lady of Saturday Night Live would observe, "How convenient!" How convenient it must seem, to some, to be able to claim the grace of God's forgiveness and, yet, to declare that the words spoken by God, incarnate in the flesh of a human for thirty-three years, are of secondary importance. Perhaps they would even declare God's own teachings to be, "foolishness."
A dear friend who has gone to his well-deserved reward used to claim that such people were trying to "put God in a tight spot."
Unless we help others to understand the radical, counter-cultural teachings of Jesus, His words and His ways certainly appear as foolishness. Giving all that He had to the poor, pouring Himself out in loving service, criticizing the government at the risk of, and to the point of, His own cruel death upon the cross. Not stopping when He was told to stop, never ceasing to point out the lies of the wealthy governing class, insisting on justice for the oppressed right in the faces of the oppressors. Why would Jesus not simply conform, take advantage of the facts that He was healthy, that He had enough to get by, that He could use His own intelligence and His own strengths to climb and, maybe, work His way up to be counted among those who were seen as wise? Why did He have to hold them accountable? Foolish!
Paul told the Corinthians, as he tells us today, that God's foolishness is wiser than human wisdom. He wrote to them two thousand years ago and to us, today:
God chose what is foolish in the world to shame the wise; God chose what is weak in the world to shame the strong;
God chose what is low and despised in the world, things that are not, to reduce to nothing things that are,
so that no one
might boast in the presence of God.
He is the source of your life in Christ Jesus, who became for us wisdom from God, and righteousness and sanctification and redemption,
in order that, as it is written, 'Let the one who boasts, boast in
the Lord.'
It's difficult to choose the foolishness of Jesus when we are confronted by those who reject His teachings--even those who proudly wear the cloth--as foolishness. We must, though. We must realize that it is this to which we are called.
The fool--the young and simple Russian boy in the story--saw his life changed and probably never understood that it was his own simple act of humility and humanity--sharing all that he had with an old man who asked--that brought about the change. No one would promise you that your own simple act of humility--foolishness--would lead to a miraculous change in your life. But time and time again we have seen it be so.
The outline for Sunday's service is attached, and I welcome your ideas, questions, comments and--and--support once it is final.
We Can Hope (even in the darkest of times).
Andy