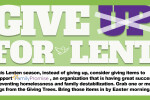 Union Chapel Indy Partners with Family Promise of Greater Indianapolis at Lent
Traditionally at Lent, we consider GIVING UP items of comfort or temptation (meat, chocolate, screen time) to remind us of the time Jesus spent in the desert (Matthew 4:1-11) praying and fasting before his journey to the ultimate sacrifice -- his crucifixion.
This year, please consider the option of GIVING for Lent, instead! Union Chapel Indy has recently partnered with an amazing organization called Family Promise.
Family Promise helps address the root causes of family homelessness by helping homeless families eliminate a "shelter" stay, and replaced it with a move to an apartment, while caseworkers support the parent(s) and children with referrals and transportation to wraparound services like mental health evaluation/treatment, physicals/immunizations, childcare/school enrollment, employment search/prep/retention, and more. If, after three months, the guest family wants to stay in the apartment and take over the lease, that's ideal -- a previously unrented apartment now has new tenants and a family has avoided the trauma of a shelter stay, and has the gift of furnishings that they can keep to help launch a new phase of their lives.
Family Promise has seen significant local success through its innovative programs -- and Union Chapel Indy is pleased to assist these efforts by collecting homecare supplies during the season of Lent.
Beginning Sunday, February 26th, you can select one tag (or many) from the three Giving Tree displays located in the upper and lower lobbies and in Fellowship Hall. On each tag is listed one item needed to help a family clean maintain a new apartment:
Paper towels
Toilet paper
Napkins
Sponges
Brillow pads
Dish soap
Laundry detergent
Dryer sheets
13-gallon trash bags
Liquid hands soap in dispenser
Liquid hand soap refill
Shower liner with rings
Small first aid kit
Toiler bowl cleaner
Anti-bacterial multi-surface spray cleaner
Pillows
Please bring your donations back to the Giving Trees by Easter morning. If you would rather make a monetary contribution toward the drive, you can do that here: GIVE. Thank you for your continued generosity and love for your neighbors.