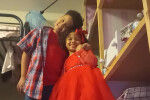 This is just one of many stories of hope from our 2023 Lenten-giving partners, Family Promise of Greater Indianapolis -- the organization that we have been supporting with our household goods drive. Thank you for the generous gifts you've left under the Giving Trees this month! Final donations can be dropped off on Easter morning.
Judith's Story of Hope
It was 2019. She was working as a bartender at The Living Room Lounge downtown. Her two kindergarteners were housed and stable. On a Friday night, she had to call in sick because her headache was so bad. The manager said she knew it must be bad to give up all those tips on a Friday. Suddenly, Judith collapsed. Her cousin rushed her to the ER. An aneurysm ruptured, and her only hope was emergency brain surgery.
She survived, but everything was different. She couldn't work. Her short-term memory struggled. She couldn't read easily anymore. She began time-consuming therapy.
She had gotten out of the hospital two weeks before Christmas. She was evicted in February with her kids. Luckily, her tax refund check arrived and she was able to find a studio apartment near the kids' school. With that check, she could cover rent for almost a year. Twelve months later, though, the money had run out. The eviction moratorium ended. The sheriff and moving company were at her door that same day... another eviction.
Fortunately, the school social worker told her about Family Promise. Judith called and called all shelters, but there were no openings. But, Family Promise DID have an opening. Judith moved into an apartment shelter at Carriage House East made possible by donations to Family Promise's #NightWithoutABed campaign and
Glick Philanthropies
. Judith's case manager helped her secure a Section 8 housing voucher (i.e., a rent subsidy).
Judith had her own place again! She built her daughter a 4-foot dollhouse. They were stable for an entire year, and the kids thrived. Unfortunately, though, as Family Promise contacted her about sharing her story a month ago, another aneurysm ruptured. She had a stroke and two brain surgeries... again.
She didn't know if she would live. But she does. She didn't know if she would walk. But she does, though with a cane. She can't use her left side much yet but is grateful to be alive. "I prayed 'God just let me stay their mom,'" Judith said. She still is their mom.
When a family secures housing, the struggles are far from over. But so is Family Promise support. Their AfterCare Coordinator, Jessica, has been working with Judith all year. When the stroke happened, Jessica visited right away. She got approval to transfer Judith's housing voucher to a unit on the first story. Now, Judith won't have to fight with the stairs.
We hope she's able to move in the next two weeks. Family Promise will be contacting volunteers to help move her stuff. "Not every corporation or business lives up to the names in their titles. But you guys really kept the promise to my family. I'll do whatever I can to help anybody out. Thank you, thank you, thank you, because I'm forever grateful, Judith writes"
Family Promise thanks YOU for the support that pays forward the sacrifices that God has made for all of us -- that's the spirit of their annual fundraising campaign, "Night Without A Bed."* A struggle for one night in no way replicates what Judith is going through. And sure, it can raise awareness. But like prayer, fasting, or almsgiving, it perhaps serves more to empty ourselves so that Providence can fill us with compassion for those for whom the struggle isn't a choice.
Thank you for helping Judith and others like her through Union Chapel Indy's GIVE FOR LENT project!
*Night Without A Bed is the primary fundraising campaign to support Family Promise's Apartment Shelter Program -- a model birthed in Indianapolis during the pandemic that has become our sole shelter program. The goal of $200,000 will allow Family Promise to sustain 24 apartment shelters in operation in the coming year, making it the largest family shelter program in Indianapolis. The cost for one 12-month lease on an apartment, plus security deposit, utilities, Internet, insurance, and some repairs is about $15,000. Learn more about this innovative solution, and how it's changing homelessness intervention at
www.fpgi.org/asp
.