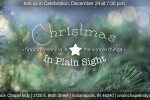 December 17, 2022

Dear Friends,
I pray that this letter finds you enjoying this season of preparation and anticipation as we approach Christmas. It has been a joy to lead in ministry, mission, and worship here at Union Chapel Indy during this special time of year.
And thank you for the many ways you've helped bring "Christmas in Plain Sight" to our friends and neighbors in the area! Partnering with The Garden Community Church this season, we have…
Assembled and delivered more than 50 laundry baskets filled with household and personal items for families served by the Fletcher Place Community Center (fletcherplacecc.org).

Using funds raised at the

2nd Annual Smoke Off!

this fall, assembled and delivered baskets full of food to Nora Elementary to bless 30 of their families in need.

Provided Christmas gifts and full Christmas stockings to a local family and to residents of Trinity Haven (trinityhavenindy.org).
These expressions of love and light are tangible ways we share Jesus with people around us. Thank you for your generosity!
I hope you are making plans to worship here at Union Chapel Indy over the Christmas holiday.
Christmas Eve

we will gather at 7:30 p.m. in the sanctuary for a traditional experience of carols and candle lighting, followed by cookies and cocoa in the Great Room

Christmas Day

worship will be available online at youtube.com/@UnionChapelIndyUMC at your convenience, and the church will be open for Prayer and Communion with Pastor Carolyn Scanlan-Holmes of The Garden Community Church, 9-11:00 a.m.

And then on

New Year's Day

, we will gather for a Jazz Brunch worship experience at 10:00 a.m., in the Great Room
Should you have questions about any of these worship experiences, please be in touch with me or the church office. You can reach me by email at , or through the church office at 317.846.3429. I would look forward to hearing from you.
There is so much to celebrate this time of year, and I look forward to being with you as we offer our praise and thanks to God for God's tremendous gift to us at Christmas. Please know that you are in my prayers through this season and into the New Year. May you and yours know the hope, love, joy, and peace that Jesus brings, at Christmas and always.
Blessings,


Rev. Elizabeth Gilbert
Senior Pastor
Union Chapel Indy, Inc.