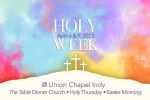 Holy Thursday, April 6
Holy Thursday (also referred to as "Maundy Thursday") is the Thursday before Easter and is celebrated in commemoration of the Last Supper. The word "maundy" is derived from the Latin word for command, and is a reference to Jesus' commandment to the disciples to "love one another as I have loved you."
On Holy Thursday, join us for one or both:
- 6:00 p.m.
- 7:00 p.m.
Prayer and Holy Communion in the Sanctuary | All are welcome for this special time of remembering Jesus' last meal with his disciples.
Easter Sunday, April 9:
"Jesus Is... Risen"
Easter celebrates Jesus' triumph over death. His Resurrection is the good news of Christian tradition. Join us as we celebrate Hope.
10:30 a.m. in the Sanctuary and Online
Spring blooms in all its fullness, every year, without fail. Hope springs eternal as we celebrate God's power to raise up Jesus from the grave, and bring new life to us, as well.