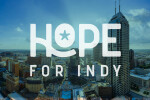 What if churches all around Indianapolis combined forces to spread hope?
We believe there is a momentous opportunity for churches around our city to speak as one. To show central Indiana that our top priority is people. That we are here. We are one. We care. And we want to bring peace, hope, and resources to our city.
To do this, we've partnered with churches from all across our city on a campaign called Hope for Indy. Our goal is to gather, share, and celebrate stories of hope. We'll be posting these stories and messages of encouragement on our social media. Here's how you can help us reach as many people as possible!
3. Share our posts
Find our recent posts on Facebook, Twitter, and Instagram and share them with your friends and followers. Let them know where your source of hope comes from and that we love them and are here for them in the midst of really difficult circumstances.
4. Share your story
If you have a story of hope you'd like to share, we'd love to hear it! Share it with us via email or by tagging us on social media and using the hashtags #unionchapelindy and #hopeforindy.
We want to bring hope and peace to our families, friends, and all of central Indiana. Will you join us?