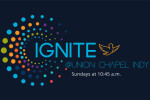 Ignite!
Beginning Sunday, June 6, you're invited to a new discipleship experience that we call "IGNITE." We'll use this time, every Sunday 10:45 -11:30 a.m., to equip ourselves - for the adventure of living as followers of Jesus in the world.
This unique experience will include a variety of activities and elements - video, discussion, guest speakers, hands-on activities sometimes, music once in a while... all designed to build relationships, create community, grow our faith, and equip us to love like Jesus every day.
This gathering will be appropriate for all ages - teens, adults, families, whomever. No need to register - just plan to gather in the Great Room at 10:45 a.m. on Sundays, starting June 6. Invite your friends and family!
June 6th topic: "Outfitting for Faith"