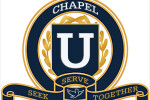 Hey, Grownups... It's Back-To-School Time!
Beginning in August, Union Chapel will be hosting a new Adult Ministry -- a monthly lunch-and-learn event that will be held on select Wednesday and Saturdays through December.
Chapel University will bring together adults from all over the community who wish to keep enriching and expanding their learning horizons. Each workshop will feature a delicious luncheon and excellent speakers at a very nominal ticket price.
"Union Chapel is a caring community and we're reaching out into the Nora-northside area to show God's love in practical and innovative ways. Chapel U is open to any adult, regardless of their religious background, so that adult students can feel free to invite their friends and neighbors. We feel this gift of learning that's important to today's adults. Continuing to challenge ourselves intellectually and interact with others is important to our overall health, especially as we're all getting older and living longer. So we're making the workshops topical, fun, fascinating -- and attainable, keeping the ticket prices between $2 and $15, depending on the materials needed for each workshop. However, no interested student will be turned away for an inability to pay," according to Lisa Lorentz, the Chapel U Ministry Coordinator.
Chapel U's full catalog of events will be out shortly. It will include topics like:
- Bible and spiritual journaling
- Memoir writing
- Extreme couponing
- Storytelling
- Preserving your family photographs for future generations
- Internet and social media safety
- Habitat gardening for small spaces
- The adventures of a wild bird rehabilitator (and her birds!)
- and an opportunity to record a story from your life for posterity go give to your family during the holidays.
Many of these workshops will feature an accompanying Saturday "Brown Bagger" -- an afternoon to bring your lunch and practice the skill you just learned, hands on.
The first Chapel U workshop will launch on Wednesday, August 16th featuring a delicious luncheon sponsored by The Forum at Woodfield Crossing and an exciting speaker from the Indiana Historical Society: Lauren K. Peightel, who is Coordinator of their Genealogy and Family History Programs.
Telling Your Own Story: Leaving Your Family a Legacy
11:00 a.m. Registration
11:30 a.m. Lunch provided by The Forum at the Crossing
12:00 - 1:30 p.m.
Did you get the chance to ask your grandma how she met grandpa... or how to make noodles from scratch? Don't you wish you knew? Life experiences are so different from generation to generation and if we don't record our life experiences, our grandkid's view of history will be so... impersonal... just lists of names and dates.
Do your grandkids know how you met your spouse... or what kind of toys you played with... or that people used to have to DIAL a phone that was STUCK to the wall? (Your grandkids have only ever seen one of those on old movies!) Do you remember when TV programming ended in the evening with the National Anthem? Tidbits of your life story will help make you a three-dimensional personality to your descendants long after you've gone. Think of the valuable lessons you can pass on!
We live in a culture that changes increasingly faster with every new innovation. In a matter 15 or 20 years, the things you do TODAY will be completely foreign to the next generation. If you simply leave your grand kids just two or three stories about your CURRENT YEAR, they will be fascinated about how life and technology have evolved to their time.
This first Chapel U workshop will give you all the tools you need to leave your family a precious piece of your life story -- whether you consider yourself a writer or not. You might even win a free membership to the Indiana Historical Society... and other exciting freebies, as well!
All courses held at Union Chapel United Methodist Church (unless otherwise noted) located at 2720 E. 86th Street, Indianapolis, IN, 46240.

LUNCH AND WORKSHOP PLUS MATERIALS ONLY $5, but you must pre-register by calling (317) 846-3429. Limited seating. Please respond by August 11.