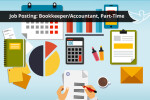 Union Chapel Indy UMC (UCI) is seeking a part-time Bookkeeper/Accountant to manage the financial life of the church. Tasks include, but are not limited to, processing accounts payable; maintaining giving records; processing payroll; keeping all financial records; developing financial processes and procedures; preparing regular reports.
The successful candidate will have experience and skill in standard bookkeeping practices, using QuickBooks, processing all financial transactions for a small organization, and maintaining financial records and strict confidentiality in all matters. Experience with church finances is preferred.
Salary negotiable and dependent on experience and expertise.
To apply, email cover letter, resume, completed application, and references to: . Full applications received prior to November 8, will be given priority consideration.