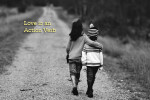 For it is by grace you have been saved, through faith—and this is not from yourselves, it is the gift of God— not by works, so that no one can boast. For we are God's handiwork, created in Christ Jesus to do good works, which God prepared in advance for us to do. -- Ephesians 2:6-10

If you spend much time watching the news...
You could get the impression that there's little good in this world. It seems like all that we hear about lately is the latest shooting, or child abuse, or bureaucratic corruption. It feels like human discourse has deteriorated beyond repair, as the media magnifies our worst flaws and deepest divisions.

With such a view on the world around us, it's not surprising that we can feel panicky, depressed, or reactionary.

So, how can we counteract this bombardment of negativity?

1. Understand the history.
We are living in a time of rapid change. Never before in history could an atrocity, being committed at the furthest and most secluded point on this globe, be discovered -- let alone, broadcast to multi-millions, in real time. Technology has made it possible to be aware of more... stuff... than was ever possible at any point in the past.

2. Understand the medium.
"if it bleeds, it leads." Media studies show that the reporting of bad news far outweighs good news by as much as 17 negative reports for every one that's positive.

Why? Because "nice" doesn't sell. "Average" doesn't go viral. So the vast preponderance of what you see on TV and other media is worst that's out there. Truth is, that bad stuff always was there... we just couldn't SEE it (and sell it) so easily.

3. Use your superpower.
God has deputized each one of us to be agents of peace and love. In parable after parable, Jesus taught that kindness was power over evil.

4. Change the world.
Jesus was definitely on to something. You don't need to be a professor of Psychology to understand that any kind action encourages the person that the kindness was bestowed upon. What you might have missed, however, is the scientifically-observed cascading effect of one good act: a kindness observed inspires tangible increases in the altruism of others.

5. Change yourself.
So, we can agree that kindness is good for the world. But guess what; it's good for you, too. A number of scholarly studies have found that people who participate in random acts of kindness each week are happier than people who don't.

6. Be the change.
When, in Matthew 22, Jesus instructed us to love your neighbor as yourself, he probably didn't mean... "in theory." Love is an action verb.

7. Pay it forward.
So... maybe today you're feeling uncreative or tired or shy or just not sure how to start this whole "change the world" thing. Here are some ideas to get you started:

• Pick up the tab of the person behind you in the drive-thru

• Send a letter to a friend, family member, shut-in, or service member

• Leave money in the vending machine

• Leave a used book on public transportation with an encouraging note in it

• Compliment a stranger

• Send a get well box to someone

• Donate blood. Encourage others to do so on your Facebook page.

• Grab an extra cup of coffee for a co-worker

• Offer someone a piece of gum

• Volunteer at an animal shelter

• Babysit or pet sit for a friend

• Thank the repair person for doing a good job and make sure they know their work matters

• Pay someone's expired parking meter

• Rake your neighbor's leaves

• Take a meal to an elderly neighbor or new mother

• Invite a new neighbor over for game night

• Leave kind notes around town, randomly (great for kids to do... and introverts)

• Help someone fix their car

• Be a little more generous than you have to

• Tell someone the thing you like best about them

• Purchase a gift card at checkout of your favorite grocery place and ask the cashier to give it to the next person or to someone who looks like they might need it

• Order snacks from your favorite shop and drop them off at the fire station

• Bring your kids to a nursing home to perform songs or recitations they've learned

• Set up a free lemonade stand with your kids

• Order flowers for a past teacher with a thank you note

• Have a stash of grocery or fast food gift cards for the homeless

• Make a bouquet of flowers from your garden to drop off on doorsteps (reuse empty food jars to make it easy on the environment)

• Fill out more positive comment cards

• Take the time to notice the names of people who help you

• Shovel sidewalks and clean off cars

• Hold the door open for someone

• Pay the toll or bus fare for the next person

• Call your parents or grandparents to tell them you love them

• Give your child flowers to give to people they think might need them and enjoy watching them make that decision

• Leave coupons next to the corresponding item at the store

• Offer to bring carts back for people who are just unloading them

• Bring cold drinks for road workers on a hot day

• Make pick up trash

• Let someone go ahead of you in line

• Greet people with a smile

• Forgive

• Volunteer

• Listen

• Let someone merge into heavy traffic

• Encourage someone

• Invite someone to help you spread the kindness by sharing our Kindness Cards. Drop by the church office to pick up as many as you will use!