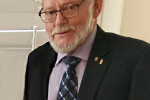 Daniel M. Riffle
Daniel M. Riffle, 82, passed away July 5, 2019, at St. Vincent Hospice. Dan was born October 15, 1936, to Sam and Bessie Riffle. He graduated from Bexley High School and attended Ohio State University. On March 18, 1988, Dan married the love of his life, Mary, and she survives, along with sons John Riffle (wife, Tod), Douglas Foust, David Foust, Brian Genovese, and Mark Genovese, daughter Melanie Oliver (husband, Brian), grandchildren Matthew Oliver, Madison Oliver and Mikayla Genovese and sister-in-law, Jo Riffle. In addition to his parents, Dan was preceded in death by sisters Alta Gans and Betty Lingo, by brothers Richard Riffle and Wes Riffle, and by beloved sister-in-law Mary Ann Hawkins and her husband, Al. Dan also leaves several nieces and nephews and one who will soon be born.
Dan loved to garden at his home in Sherwood Forest, with a yard filled with beautiful flowers and vegetables to share with family and friends. He also enjoyed decorating the yard for Christmas and delighted the neighborhood with lights and figures. Dan was an avid fisherman, bowler, and golfer, and twice scored a hole in one. He and Mary traveled together often and their trips took them to several states, including Alaska. They also shared a wonderful vacation in Bora Bora.
Dan was a faithful member of Union Chapel United Methodist Church, where he served in many ways including as Head Usher, Trustee, and Chair of Buildings and Grounds. He was also a member of the Washington Township Lions Club, serving as vice-president but also working tirelessly at the State Fair corn stand and the Nora Christmas Tree stand.
Dan had a long and fruitful career in sales and sales management, including employment with Frigidaire, Modern Tool & Die, TrakInc., Lift A Loft and, especially, many happy years with his friend Bill Branic at Clarklift of Indiana.
The family extends special thanks to St. Vincent Hospice and Wayne Mor for his kindness.
Calling for Dan Riffle will be held at Union Chapel United Methodist Church, 2720 East 86th Street, Indianapolis, from 3:00-5:00 p.m. on Wednesday, July 10, followed immediately by a celebration of life service with Rev. Andrew Charnstrom officiating. In lieu of flowers, the family has requested that any memorial gifts be directed either to the Union Chapel Building Fund or to the American Lung Association in Indiana.