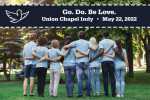 Many have said, in one way or another, "Talk is cheap."
It's true.
It costs us little to speak of love and God and grace and mercy. Jesus suggested that as his followers, there is a more effective way to share the love, grace, and goodness of God with others. That "more excellent way" is to do as Jesus did... love others with acts of kindness, care, and mercy. Followers of Jesus don't just talk about love, they do love.
On Sunday, May 22, the people of Union Chapel Indy are going to do and be love in a variety of places and ways. We will gather in the Sanctuary at 10:30 a.m. for prayer and instructions, and then go out to be Jesus' hands and feet in service to others. Wear work clothes and plan for a little longer time commitment. And if outdoor yard work is not for you, there will be mission activities to complete at the church.
Bring a friend and a willing heart to the day, as we go out to be Jesus in the world!