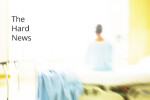 Just home from a hospital visit with a beloved parishioner.
Early this morning, I felt a nudge, a push—get up and go to the hospital soon. Off I went.
I sat in the quiet room for a half hour. Quiet prayers. Thinking about this good man's life; imagining him as a baby, newborn to a mother who laughed as she held him in her arms. Thinking of him as a playful boy, a heartbroken teenager, his joy as he married his lovely wife and as they welcomed new life into the one they had made together. Health issues had sprung up and, yet, his spirit remained. The doctor came in.
He slept as the doctor listened to his heart for what seemed five minutes. Then, the doctor woke him and delivered hard news. Not the news the man wanted. Not the news we look forward to hearing. And then the doctor was off. And I was left with my parishioner to contemplate, for a moment, what it all meant. Soon, he made it plain that he would like to be left alone and, after a prayer that we shared, I left him to his own private thoughts and feelings.
We have to hear hard news once in a while. Life is like that; we love and, if we are to love then we must learn, also, to let go. Grief—even grief over our own circumstance—comes in direct proportion to our love. If we love life, if we love family, if we love friends and the things we share, then the news that our lives may be interrupted is a source of grief, even if we anticipate a new life when this one comes to a close.
Jesus entered the Temple in Jerusalem—The Temple, the place where God was known to reside—and saw commerce in the outer court. Unafraid to deliver hard news, Jesus made a whip from some cords, turned over the tables and spilled the coins, shouting down the ones who complained that He had no authority. He spoke of demolishing the Temple, and they laughed. They didn't realize that Jesus was delivering hard news. Change was coming; change was required. The old ways had to go—it was the only way for the new to come.
I thought of the doctor. Coming into the room, listening, looking, testing. Delivering hard news. Then off to another room, another patient, someone else's parishioner. An examination; would it be hard news for that room, too?