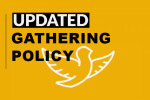 Happy Summer! Even if the calendar doesn't quite have us in summer yet, with the passing of the Memorial Day holiday and temps well into the 80's this week, I think we are there. I pray that you are finding moments to relax, enjoying the outdoors, and maybe even benefiting from a change of pace.
Recent days and weeks have also brought hopeful signs in the COVID-19 pandemic in this part of the world. We know that parts of the world are still suffering with significant infection rates and deaths, and we hold them in prayer. Locally, however, we are finding infection and death rates down considerably. As a result, all restrictions have been lifted for churches in Marion County. This means that we are no longer required to wear masks or limit our seating capacities at Union Chapel Indy.
While many will be relieved by this change, it will cause some to have increased concern. Please allow me to encourage each of you to live into this new reality in whatever way is most comfortable for you. While masks will not be required at Union Chapel Indy moving forward, you are most welcome to wear a mask. For the unvaccinated and the most vulnerable, this is still the CDC recommendation. Both disposable and cloth masks are available at the church for your use and convenience. And while we will not restrict seating in the sanctuary (or elsewhere), please place yourself wherever you are most comfortable in any given area. And if someone sits closer to you than you are comfortable with, please move to a more comfortable location. The balcony is often sparsely seated, and you may even want to move into one of the lobby areas where you can still hear what is being said in the sanctuary. In all cases, please know that I, the staff, and leadership want you to feel safe and comfortable and encourage you to do whatever you need to do to feel so.
I also realize that some of you are still choosing to not be in-person at the church. Again, if that is the best decision for you, we support and encourage your decision. Please be in touch if there is anything we can do to be helpful to you in that decision. I am available by phone or email to chat, pray, or listen.
Should you have any questions about the church's current COVID practices or precautions, please be in touch. You can reach me by email at , or through the church office at 317.846.3429. I would look forward to hearing from you.
Blessings,
Rev. Elizabeth Gilbert
Senior Pastor