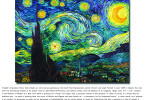 This devotional was originally presented at the 3/9/22 Paint Night, a part of the 2022 Lenten Series.
Find the full Lenten guide here: https://www.thegardenonline.org/lent

Our inspiration painting: https://www.vangoghgallery.com/catalog/Painting/508/Starry%20Night.html
Paint with Us: Vincent van Gogh's Starry Night
Starry Night, is a well know oil-on-canvas painting (2'5" x 3'0") by the Dutch Post-Impressionist painter Vincent van Gogh. It was painted in June 1889. It depicts the view from the east-facing window of van Gogh's asylum room at Saint-Remy-de-Provence, just before sunrise, with the addition of an imaginary village. Today, Starry Night is located in the Museum of Modern Art, New York.
What is painting for? Vincent van Gogh's had a particular answer to this question. In 1889, he wrote to a friend that his ambition was, "to make of painting what the music of Berlioz and Wagner has been before us... a consolatory art for distressed hearts." In other words, art's purpose is to comfort, to encourage us when we are distressed or brokenhearted, just as certain pieces of music do. Understood this way, a painting is a kind of gospel. a visual declaration of "good news". (Luke 4:18)
How to Begin:
1. Gather art materials around you. Make sure you have everything you need so you don't have to interrupt the flow of your work: paper towel, water, paint, canvas, brushes.
2. Set the tone:
- enough light -- but not too much
- turn off your phone
- turn on some music you like
- enjoy this devotional...

Have you ever been frustrated with the results of your artwork? Do you struggle with translating what's in your head into the language of the canvas? Have you ever been told by someone else (even yourself) that you're not very good? Tonight's inspirational artist, Vincent van Gogh, experienced all of those frustrations -- and more.
For those who maybe aren't that familiar with van Gogh, he was born in the Netherlands in 1853. The son of a pastor, Vencent fervently pursued theological study, and was eventually appointed to be an evangelist in Belgium. But, just six months into the job, Vincent was dismissed for what his parish judged to be a lack of preaching ability.
Of course, that wasn't the end of van Gogh's problems. Opportunities eventually drew him into the vibrant art world of that time — but there too he was judged to be inferior, too different. Indeed, it wasn't until after his death that his paintings came to be considered groundbreaking… yes… a brand new genre of art.
His paintings are, to this day, among the most expensive ever sold.
So I ask you… who wasn't good enough?
God has made you enough for everything that you will encounter. Isaiah 41:13 says "After all, it is I, the Eternal One your God, who has hold of your hand, Who whispers in your ear, "Don't be afraid. I will help you."
This painting exercise is about PLAY, experimentation, and most important …. relaxation. You're not here to produce a product. In preparation for this painting experience, I encourage you to focus on the picture of Starry Night… really LOOK at in. Forget about the rush of the day and everything that led you here. Appreciate the form, the colors, the textures of that painting. Don't worry about how you'll replicate it — because you won't. You will interpret it, in your own language. Don't compare your work to others. Those thoughts are the thieves of joy. Rather, let this time be a time of focusing on praise, wonder, and appreciation for the Creator of all things.
Now, let's get to it…
Repeat after me: I will enjoy this time. I will experiment with these materials. It doesn't matter if my art doesn't look like the picture in my head. I will not stress. I will appreciate this moment and the Creator who gave it to me. I will take this sense of peace out into the world and share it with others.
Begin!
Share your art experience with us at The Maker's Space at Union Chapel Indy. We'd love to see how you were inspired!