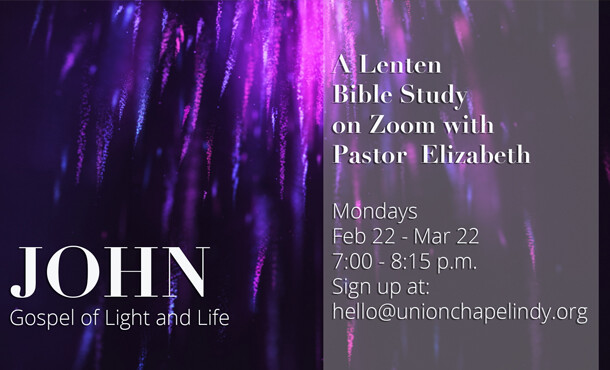 Every Monday, from 02/22/2021 to 03/22/2021, 7:00 PM - 8:15 PM
Lenten

#BibleStudy on Zoom!
#GospelofJohn
Monday evenings, 2/22 - 3/22, 7-8:15PM
Join Pastor Elizabeth for a study of the Gospel of John in the weeks leading up to Easter. On Monday evenings, Feb 22 - Mar 22, 7:00-8:15 p.m., via Zoom, participants will grow in faith as they experience a video lesson, engaging conversation, and get to know others in the group.
The study will be based on "John: The Gospel of Light and Life" by Adam Hamilton. There is no need to purchase a book or prepare anything prior to the first meeting. (Though a book by the same title is available to purchase from your favorite bookseller if you'd like the extra content and learning.)
When you register with Pastor Elizabeth below, she will get the Zoom link to you prior to the first session. Your friends and family are welcome to participate, too! Please share this information with others.
Register: