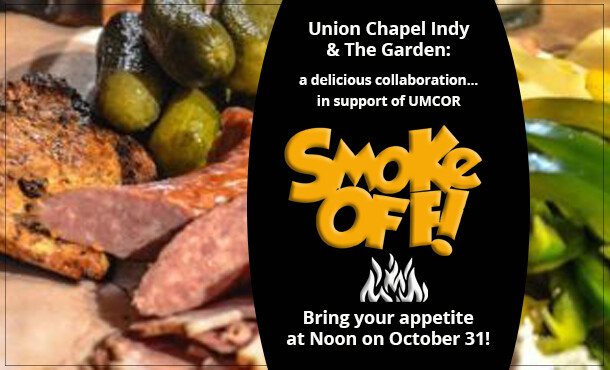 Sunday, October 31, 2021, 12:00 PM - 2:00 PM
Smoke Off! October 31, with Union Chapel Indy and The Garden Community Church
You are invited to a Smoke Off! with Union Chapel Indy and The Garden Community Church on Sunday, October 31, at noon, in the lower level at the church. Enjoy - and vote on your favorite - smoked meat; try some tasty sides; and also vote for your favorite homemade dessert! Voting will be with your cash or check, and all proceeds will benefit Afghan Refugee Relief through UMCOR (The United Methodist Committee on Relief). No reservations are needed. Just bring your appetite, your voting dollars, your family, and your friends!
But - - if you smoke meat and want to join the competition, you are most welcome! Your best dessert is also welcome in the competition. And your efforts with set-up or tear-down will make the work light and quick. To enter your smoked meat or your dessert, or to volunteer with a little labor on that Sunday, please email
or find the sign-up sheets at the church on Sunday mornings.
Mark your calendar today for good food, an opportunity to make some new friends, and to celebrate what God is doing at 2720 E. 86th Street!